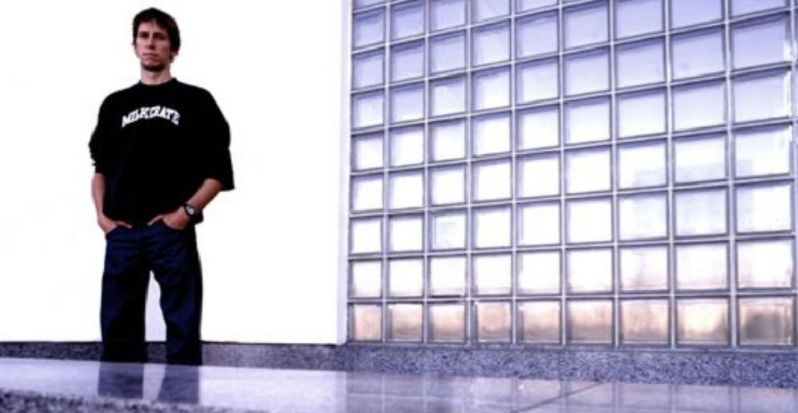 It's not a secret that a lot of dnb artists are avid fans of hip-hop. Even these days, some of them try to convey this genre's influence on their own output: it can be seen, for example, on Dom & Roland's new album. We have selected about 20 original tracks, whose rapping was carefully placed into drum & bass material, new and old. As usual, your questions and own additions are appreciated!
Hip-hop vocals have always added to the tension of the vibe, whilst establishing a deeper connection between dnb music and urban culture. One of the first tracks, which contained a sample of this kind, could be Gangsta Hardstep from Ed Rush. But the ones who really spread the mixture of hip-hop and drum & bass were Renegade Hardware, who enthusiastically pushed that raw, relentless sound. Nowadays, rapping in dnb is still widespread, but now it's basically delivered by original MCs, who work with producers directly: probably, you have at least heard such names as Jakes, Fats, DRS, Coppa… Artists use this medium because it's actually more fun to make your own, unique material; but it is also done to avoid copyright problems. Nevertheless, it doesn't make the sampling culture less valuable.
Next to the titles of hip-hop tracks there are indications of when you can hear the samples that eventually got used in the dnb tunes, posted above.
Dom & Roland – King of the Hustlers (Metalheadz, 2016)
Fat Boys – Human Beat Box
Dom & Roland – Get Up (Dom & Roland Productions, 2008)
Potential Badboy – Play It Kik It (Ganja Records, 2004)
The Fearless Four – Rockin' It (0:23, 0:03)
Propaganda – The Real (Offkey, 2006)
Evol Intent & Ewun – Reality Check (Evol Intent Recordings, 2008)
Eazy-E – Tha MuthaPhukkin Real (3:07, 1:01)
Evol Intent & Arsenic – Real Talk (Evol Intent Recordings, 2008)
G-Unit – Gangsta Shit (0:11)
Evol Intent – Glock Party (Lifted Music, 2006)
Heavy D, 2Pac, The Notorious B.I.G. and Grand Puba feat. Spunk Bigga – Let's Get It On (2:51)
The Notorious B.I.G. feat. DMC – My Downfall (0:53)
Spor & Infiltrata – Three Faces (Barcode Recordings, 2006)
Spor – Lose It (Renegade Hardware, 2005)
Hybris – Losing It (Dispatch Recordings, 2013)
DJ Hazard – Wonkey Donkey (Ganja Records, 2004)
Ancronix – Espionage (Metrik, 2004)
Mobb Deep feat. Big Noyd – Just Step (Prelude) (0:05, 0:44, 0:18)
Ewun – Screw Up (Lifted Music, 2006)
2Pac and The Notorious B.I.G. feat. Dramacydal, Buju Banton and Stretch – Runnin' (From Tha Police) (2:05)
Calyx – Killa (Moving Shadow, 2003)
Dr. Dre feat. Group Therapy – East Coast West Coast Killas (0:46)
Ed Rush – Gangsta Hardstep (No U-Turn, 1995)
Gang Starr feat. Jeru the Damaja and Lil' Dap – Speak Ya Clout (1:10)
BTK – Drop It (Dutty Audio, 2011)
Roy Green & Protone – Rubik (Sound Trax, 2012)
LL Cool J and Canibus feat. Method Man, Redman and DMX – 4, 3, 2, 1 (1:13, 0:21)
BTK & Maztek feat. MC Kryptomedic – SMMF (Virus Recordings, 2015)
Ice-T – Warning
Friske & Perpetuum – Step Up (Human Imprint Recordings, 2009)
Redeyes – Goodnight Brooklyn (Vandal Limited, 2014)
Audio 2 – Top Billin (0:10, 2:48)
Loxy & Keaton – Haters (Renegade Hardware, 2004)
Joe Budden – Pump It Up (1:31)
Paris – Make Way for a Panther (1:49)
Keaton & Hive – Bring It On (Violence Recordings, 2004)
Organized Konfusion feat. The Ill Rahlos – Bring It On (The Lost Remix) (0:23)
Noisia – Block Control (Moving Shadow, 2005)
The Militia – War Cry (Renegade Hardware, 2004)
Ice Cube feat. DMX – We Be Clubbin (0:21)
Black Sun Empire & Noisia – Hideous (Black Sun Empire Recordings, 2005)
Kanye West feat. Mos Def, Freeway and The Harlem Boys Choir – Two Words (0:47)
Teebee & Future Prophecies – Let the Bass Kick (Subtitles, 2004)
Dylan & DJ Damage – Bass Kick (Outbreak Records, 2000)
N.W.A – Something 2 Dance 2 (2:01)
Pish Posh – Corrupt Cops (Evol Intent Remix) (Barcode Recordings, 2004)
Ewun – Guntalk (Barcode Recordings, 2005)
Concord Dawn & Black Sun Empire – Crime Side (Uprising Records, 2008)
Universal Project – Focus Mode
Ruffstuff & Friller Vs Nu Elementz – Gatts (V Records, 2013)
Ancronix – Sweet Pepper (Ruff-Teck, 2004)
Wu-Tang Clan – C.R.E.A.M. (2:34, 1:25, 0:22, 0:42, 0:40)