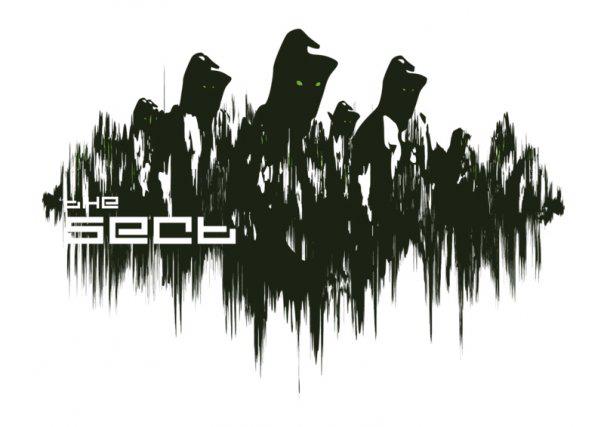 There were a lot of good drum & bass albums in 2010s, but revisiting them over the years makes you really realize how cool they were. One of such LPs was 'Fractured State' — the only full-length from the iconic, now disbanded technoid project The Sect. The guys used to say that one of their key influences were Konflict — indeed, that's how the duo of Kemal & Rob Data would sound like if they had a heavier, noisier, industrial-tinged style. For their part, The Sect were in no way inferior to their predecessors in terms of energy, technical ability and the incredible futuristic feel of sound.
Released in 2011, 'Fractured State' was a culmination of The Sect's vision, also because the album expresses it as wide as possible. Be it the ferocious, rave-inspired title track; the experimental, halftime 'Doublethink' or the techsteppy 'Warning Signs' — all these tunes make up the adventurous record. The variety was increased even more thanks to the involvement of other top-notch producers, such as Current Value, Dean Rodell and Cooh, as well as vocal talents of Joanna Syze and MC Coppa, who are featured on the beautiful downtempo/IDM track 'The Space Between'.
Dave Edwards, a former half of The Sect, took his time to answer a few of my questions…
'Fractured State' sounds like a cohesive collection of tracks. Is there a specific concept behind the album, or were you just trying to capture a certain era of The Sect?
When we initially discussed the possibility of an doing an album with Subsistenz, Dean Rodell was very keen for the project to have a clear theme right from the start. His experience was that this would help give us focus from the beginning and ensure the LP ended up being more than just a collection of our latest tunes. As we started the project and over the course of writing the album, everything seemed to be going from bad to worse in the UK: there had already been an economic crash and now there was a never-ending stream of bad news: financial chaos, corruption, political lies/ PR spin, rising poverty and inequality. Anything that couldn't be commodified to make a quick buck was regarded as worthless and it felt like life for most people was rapidly getting worse. So that sense of decay and things breaking apart formed the basic concept. Fortunately, it turns out that if you make moody and aggressive music, this mix of anger, despair and injustice can be quite motivating.
'Fractured State' is also a title of the opening track of the LP. What does this name mean in this particular context?
Fractured State seemed to sum up the situation in the UK around the time we were writing the album. Banks were collapsing, people were losing their jobs and local services like community centres and libraries were being closed due to austerity measures. Society was starting to become a lot more polarised and trying to do anything meaningful about it seemed futile. Things were falling apart. We tried to shape the anger and frustration we were feeling into the music and although the vocal sample in this one wasn't directly related to the track name, the message that "You are not unique, you are nothing" seemed to fit in with what we were trying to convey.
Your album features contributions from some of the respected artists in the dnb scene: Current Value, Dean Rodell, Cooh, Joanna Syze and MC Coppa. How did it feel like to collaborate with these guys?
It was a pleasure and a privilege to work with all of these artists. They are all musicians we admire, so we were excited and determined not to mess anything up. We'd worked with Joanna previously on a track for her album Rodina, so she returned the favour here and then Marvin came on board and absolutely smashed it too. We'd known Dean, Tim and Ivan for years and had collaborated on various projects; at the time Subsistenz and the stable of artists associated with the label represented exactly what we liked about Drum & Bass. The crew was like family, so it was natural for us to work together.
Some of the highlights of the album are remixes for long-time techno producers Thomas Krome, Glenn Wilson & Mike Humphries. How did these remixes come about?
Dean Rodell was a techno producer before he turned his hand to Drum & Bass and started Subsistenz, so these remixes came about entirely thanks to him. He had a lot of great contacts in the scene and was friends with the original artists and label owners. I think he pitched them the idea and then we just got sent the samples and got to work. I don't think we really appreciated at the time just how big the original tunes were, or how lucky we were to get the opportunity to remix these artists!
Is there a particular album track that still stands out for you?
I think it's quite hard to be a producer and not struggle to listen back to your work from 10 years+ ago! Drum & Bass changes so quickly that there are lots of things I'd do differently if we were making the record now, but there are still some tunes I like. I haven't really got a favourite though. I do have lots of good memories of making the album with Ben and then of course going and playing the tunes out at shows. And I can remember being blown away seeing the artwork for the first time (big up Jeff). I feel really fortunate that we got the opportunity to make an album, so I guess I'd just like to say thanks again to Dean for putting his faith in us and making it possible and much love to everyone who showed support.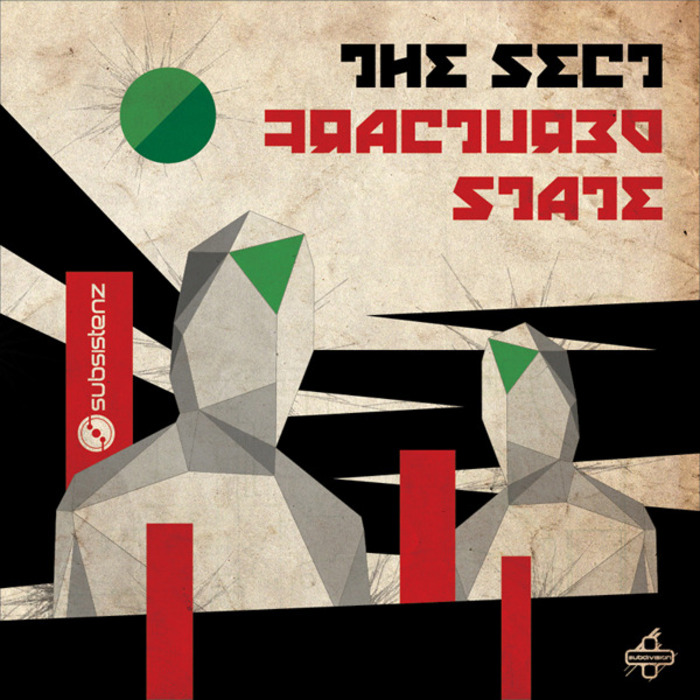 By the way, did you pay attention to the album cover? If you thought that it was nothing really special, then you were wrong. It was done by Jeff Williams, who used to create sick, futuristic artwork for The Sect back in the day.
The idea behind the album cover was to mix a fusion of cubism and brutalism art design styles with a sense of sci-fi (original The Day the Earth Stood Still 1951)… and with a slight Soviet feel (album title font). Kept the whole design minimalistic in terms of colours but didn't want it to look too clean so added texture to grunge it up a bit. The 2 polygon (aliens/robots/cyborgs…) are Ben and Dave as observers of a fractured state through their inverted green 3rd eyes.. the state (cities) represented by red skyscrapers. Going back to that film (when the eye slit opens and fires out lazers).. it's like The Sect destroy every city they play in (musically). The sun/moon/planet is split for the fractured theme and also represents both halves of The Sect – together as one force. The black is stabbing, sharp, fractured and spacelike. All of the above I hope is what The Sect tried to achieve in their music. …in a visual way for this album… through my filter.