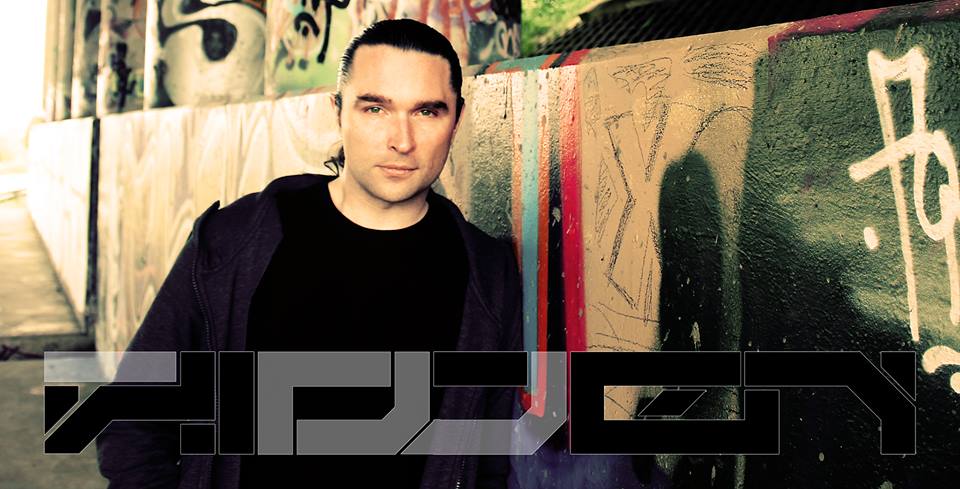 There are hardly any interviews with DJ Hidden around the Web. Nevertheless we consider him a very important figure in drum & bass and especially darkstep. Noël Wessels has been bringing fresh ideas since the very early 2000s, combining dnb with breakcore, IDM and, most notably, hardcore. As you might remember, this year has seen him releasing the Evah Green EP and a full-length album called Directive. Now, we've held a truly in-depth interview, where Noel talks many-many things – his latest releases and the writing process, people who inspire him, plans for the future, and the evolution of drum & bass.
For how long have you been putting together Directive? What's the concept behind this album?
Directive differs in approach from my previous solo-albums on Ad Noiseam as it was originally intended for my own label, Hidden Tracks. Although they retain a certain experimental character, most tracks on this release were written with the dance floor in mind. It took me quite some time to write the tracks and some of them were even meant for different projects. In the end, they all fit together nicely though. The reason the CD eventually was released in cooperation with Ad Noiseam simply has to do with time. We wanted the release to be available at Maschinenfest [festival] and having Nicolas from Ad Noiseam handle production meant we could properly execute our plan.
Different too from my previous Ad Noiseam albums, this release seemingly has less of a "story" as it seems not be a concept driven album. However, the "Directive" of this album is to think outside the box. Although the idea of a collective intelligence could lead to great things when placed in a positive realm (working together towards something great), it is sometimes good to step out of the hive and realize that progress is usually made by the continued acknowledgment of independent thought.
Your new album, just like the previous ones, offers a variety of styles. No doubt they are all enjoyable, but what caught our attention is the strictly neuro banger called Crowd Mover, which is something fresh for you. Will you continue exploring this territory?
I am never really consciously moving into any particular direction but like anyone else who enjoys other people's music, I do of course get inspired by others. I think neuro has been one of the few sub genres that featured some truly innovative ideas. The level of experimentation especially has been motivating me to write more music that does explore this territory. So, in short, yes – I probably will.
Let's talk your recently released Evah Green EP. What does the title refer to?
Two of the four tracks feature the voice of actress Eva Green so that clearly was one reason. The added "h" to change her name into the slang-version of "Ever" refers to the idea of an evergreen. In music, the term "evergreen" is used for "timeless songs". I am not necessarily saying that my songs are timeless but I did try to write songs that could both be interpreted as "classic" styles of drum & bass while at the same time people could consider them very new and innovative.
"I like people who have their own opinions and are not afraid to speak up. I like people who like to explore and pursue their interests. Their lights shine more bright. They are inspirational people"
Our favourite off the EP is Burn – a tune that hits harder than anything we could think of! What's the story behind this track? Do you actually love people that "burn" [as a voice sample says]?
I like people who have their own opinions and are not afraid to speak up. I like people who like to explore and pursue their interests. Their lights shine more bright. They are inspirational people. As you probably can imagine, I have met a lot of people over the years of spinning and traveling. Some of these people had a particular charisma that truly made them stand out as individuals. When I heard the lyrics you now hear in the song, I immediately felt I wanted to build a suitable track around them. I like people who truly live their lives, expressing themselves the way they want. They can enrich their own lives as well as the lives of others, obtaining and sharing positive energy.
Have you ever thought of releasing other artists' music on your own label – Hidden Tracks?
At the moment, Hidden Tracks will primarily serve as way to release my own tracks and collaborations with other people. But you never know: if I receive a very good demo, I might change my mind.
How do you think has darkstep changed over the years?
The level of production, not just with darkstep but with lots of different kinds of drum & bass has skyrocketed over the years. Other than that, thankfully, people are still experimenting with new sounds and ideas, keeping the genre fresh.
I think some of the music definitely has become more complex but also more compact. Ever since people moved away from vinyl releases and started spinning music with CDJs and laptops, it became unnecessary to do 3 minute intros. Nowadays, a song can have a 15 to 45 second beginning before it drops. While this would have discouraged dj's from playing out tracks on vinyl, nowadays, a long mixable intro is considered less important and sometimes even seen as a reason to skip the song. When you are trying to tell a story through your music, this sometimes can be constraining. You are more or less forced to squeeze every bit of buildup into that decreased amount of time thereby condensing the first chapter of your story into a single paragraph. Consequently, a lot of genres that used to feature songs that took their time to develop and lead the listener to a "moment supreme" now feature bite size tracks that feel more like pop music.
Regardless, I see every change like that as a challenge and I feel that, if necessary, there are always workarounds to be discovered. Albums, for instance, are great for avoiding these kinds of musical pitfalls. On an album, you can simply divide your track into segments. On the one hand you hereby service people with a short attention span and no immediate desire to experience the full story while on the other hand you do not ignore those who do want "something more". This is what I did on my Enclosed album. On the one hand, this album was relatively inaccessible because of its dark, experimental nature yet it did feature enough parts that could be played individually or as part of a completely differently themed dj-set.
Although I mentioned the fact that drum & bass producers are still quite innovative, one thing that has changed over the years is the amount of copy-cats. Digital sales obviously have made it easier for people to have their music out there resulting in a lot of tracks that "borrow" ideas. Since aspiring producers want their material out as soon as they think it is ready for release and the vinyl filter (meaning a label that has to front money in order to release the stuff on vinyl and consequently tends to be more picky on what to put out) is gone, listening to new material sometimes comes down to having to listen to a lot of music that is technically acceptable but devoid of a soul.
"Over the years, I have been shunned by purists who simply do not appreciate my desire to merge genres and dislike part of my background"
Even though you are contributing so much to drum & bass, it feels like you are quite isolated from the rest of the scene. Would you agree with that? And do you consider yourself a dnb artist?
I can imagine it appears that way. Of course, over the years, I have been shunned by purists who simply do not appreciate my desire to merge genres and dislike part of my background as I am also a hardcore and IDM producer. Since I pretty much write music in every genre imaginable, I first and foremost consider myself a musician though, unbound by the laws of any genre. As for drum & bass, ironically I know a large part of the producer scene and consider many talented people my friends.
Are rumours true that The Outside Agency [Noel's hardcore project] and Noisia are doing a collab?
That is for us to know and for you to find out. 🙂
Well, at least we heard that you and Noisia are good friends 😉 
You've been incredibly productive this year, both as DJ Hidden and The Outside Agency. How much time does it take to write a track, in average?
That completely depends. Sometimes, a song just pops in my head and I can pretty much convert it from an idea into an actual track. At other times though, I sit down in my studio and experiment, creating sounds and eventually transforming them into music. So… a song can be fully realized in a week but it can also take me months. The last track on my [Directive] album, Anathema, took me a long time to complete – for instance. The track features a lot of different speeds and could also be considered "multi-genre". I liked the challenge but I have to admit that it was quite difficult to make this track work the way I had imagined.
"I often aim for music that at least has given me goosebumps"
It is significant that your music is not just heavy but really magical. And this combination of beauty and harshness makes you stand out not just in drum & bass but in electronic music as a whole… Is there anything particular that inspired this kind of approach? Any producers, or films, or events in your own life?
Thank you. I think every creative person is always inspired by life in general; in essence, all observations and all experiences are personal, it just depends on what you do with them. It is difficult to pick anything in particular that inspires me. A mood or an atmosphere can trigger me to write music in a particular vein. I clearly have a preference for certain tones and structures and more than often, my music has been called "melodramatic". I don't mind as I have to agree. On a technical level, whenever I hear something new in a particular track and I do not exactly know how it was created, I enjoy figuring this out. I hardly ever sample other artists – I enjoy the sound design process equally to writing the actual music. A track is finished when all elements come together in such a way that what you are listening to feels right. Since I usually mix my tracks while working on them, a time to step back and simply listen often literally comes right after I have written the outro. Then the tweaking starts, consisting of small edits, tweaks and final decisions regarding the mixdown of the track. I often aim for music that at least has given me goosebumps at some point of this process; this might be this magic you are referring to. If a track lacks this particular feeling, I usually go back to it and make radical changes. Sometimes, I even decide to dismiss a track simply because it lacks that "soul" I was talking about earlier.
And we can't avoid asking about the gear that lets you create such structures…
I have never been a hardware person. My main DAW is Renoise and I believe that a good setup in a good room can enable anyone with the desire to write music to do so. Other than a fast computer, I have a three screen setup, Adam monitors (S3X-H) and a nice treated room attached to my house to work in. I do use a lot of VST synths: I like various Native Instrument ones (FM8, Guitarrig and so on), Spire, Gladiator, Serum and various others.
Can you list your favourite electronic music artists of all time? Or even non-electronic ones…
It is always hard to write down lists of people I like best as I continue to discover new music by people I had previously not heard of. Off the top of my head, a few names come to mind though: Aphex Twin (especially his older work), The Cinematic Orchestra, Amon Tobin, Tchaikovsky, Camille Saint-Saëns, Philip Glass, Björk, Deaf Center, Miles Davis, Boards of Canada, Plaid (also when they were still working as Black Dog), Hitoshi Sakimoto, Kraftwerk, Art of Noise, Biosphere, 4Hero, Giorgio Moroder, Daft Punk… the list goes on and on. I very much enjoy individuality in people's work. Similar to what some people claim makes my music interesting, I like listening to songs that are uniquely linked to their creators. I think this is a way to distinguish tracks that could be considered "fast food" from anything that has a little bit more depth to it. That does not mean there is anything wrong with a bit of fast food now and then. 😉
And, to finish off the discussion, what's next after Directive?
At the moment, I am working on a new Semiomime [Noel's experimental alias] album which should be released in 2016 on Ad Noiseam. I can't give you any details as all tracks are still very much in development. Writing tracks for Semiomime releases usually is a very organic process that I try not to force in any sort of way. As DJ Hidden, I would like to at least do a few Hidden Tracks releases next year, next to some new remixes and guest tracks on other labels. As The Outside Agency, we have released a lot in 2015 and we are hoping to do an equal amount in the coming year. All in all, there are quite a few things coming up that might peak your interest. 🙂
Huge thanks and mad love to DJ Hidden for taking the time to answer our questions! You can grab his Directive LP and Evah Green EP here and here.
Find DJ Hidden on the Web:
djhidden.com
facebook.com/DJHidden
soundcloud.com/dj-hidden
youtube.com/user/DJHiddenMusic
twitter.com/dj_hidden