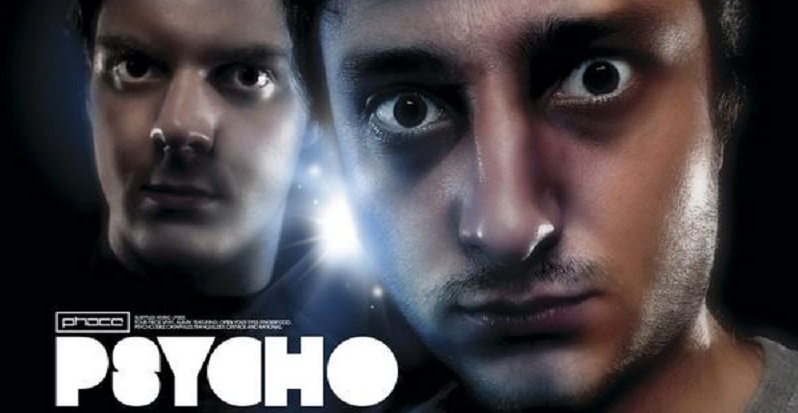 Just a few days after Phace's birthday, we have another significant date – the 10th anniversary of the 'Psycho' album! This unarguably cult record stands out in neurofunk and drum & bass: in particular, Mefjus marked its influence on his own output. LP was written when the act had two members not one… We talked to Florian about his vision of the album back then and the way he feels about the release right now, and there is also a short story behind one of the tracks…
So, it's been 10 years… How does it feel like to revisit the album?
10 years already, that is indeed quite a long time… Many personal memories come up when I am listening back to it now. It makes the LP feel somewhat even more distant. In terms of music production technology and the way I song-write these days a lot of things changed till 2007. But the record still carries this unique vibe and soul I can still feel and understand, even though I would have treated and wrote many things differently today. It still feels like a part of my life though, which I am very thankful and happy for.
Where was the whole thing recorded? What kind of gear did you and Nicolas use?
The LP was recorded in one of my old apartments when I was still living in Düsseldorf. Except two Korg Synthesizer (MS2000 and Z1) it was produced all digital, out of the box so to speak.
Even a decade after its release, 'Psycho' delivers as ever. This LP is challenging, brutal and sonically rich, and of course stands as an example of great production. Did you want to make this record a special one, or did you approach it just like any other release?
There wasn't a real goal set to achieve with Psycho. Like with any music you release you want to explore new grounds, go down new paths and want it to be the best work it can be. It is great to see the album has been so well received and somewhat defined a whole area of newskool techy electronic music. When I talk to younger producers today many say this album influenced them on their way to produce their own sound. This is something that makes me proud even though I never had planned it to be that way and never would have dreamt of writing such an album when I started to produce music just for fun. To me music was and always will be a journey to unexplored territories.
Tracks off the album have a dark, haunting atmosphere all over the place. Was there a particular intention to create such a vibe, or did you just come up with ideas that seemed to be interesting to hear?
'Psycho' is a reckless, somewhat punk, digital and rebellious piece of work, I guess that is the reason why it turned out to sound slightly dark. I also think it sounds melancholic. On the other hand it has quite a good amount of funk, carries a soul and also transports short stories, so it wasn't meant to be purely aggressive or too upfront. One thing is for sure, the whole thing is quite energetic as it should have been fun to play out on a dancefloor.
A listener could be easily alienated by the odd sounds here and there, namely in 'Cataphiles' there is a creepy voice mumbling something, or singing a melody… Could you tell what it actually was?
She says "Rise myself up as I turn" and "Further away, the acoustic ceiling".
'Psycho' was released via Subtitles Music, a well-respected label set up by Teebee. How did he get familiar with your music? What is your own opinion on Subtitles' output?
My friends Noisia, who just started to put out their first music releases at that time as well, introduced Teebee to my music. He was feeling it a lot and gave me a call and wanted to sign the music to his label. That indeed was a happy day. Subtitles at that time was such a great, innovative and progressive label shaping a decade of sound in Drum & Bass.
You recently put out 'Plastic Acid' on Blackout… The mood of this EP is very different to the one on 'Psycho', but would you say there is something in common between Phace today and back then?
Yes, I can say that. Musically all my tracks still tell a story and carry a sort of 'Phace Twist' even though I technically progressed as a producer. Moods of ideas come and go to me and change with inspiration. I am still as excited to work on music these days as when working on the debut album. And to me it's a healthy thing to always sound a little different. Otherwise it would bore me and would feel like having the same meal over and over again. I am still always on the mission for something a little different and off norm in music.
Is there a story behind any track on 'Psycho' you'd like to tell?
I think there is a story for every track when I remember correctly. And here is the one for Fingerfood. At that time I still had my old agency daytime job in marketing and media communication besides making music. The clients I handled had quite a big media budget they wanted to invest into their advertising. As I was the one who planned the placement of their advertisement I was invited to an endless amount of parties and events organized by magazine publishers, TV and Radio stations who tried to snatch their cut of this media budget. It somewhat started to feel like a corrupt business and to me personally it also started to feel quite obscene to go to all these fancy media parties at that time and age and got wasted and eat for free. There was always a ridiculous amount of finger food around which I often took back home so I had some of that 'hip' stuff at home while I was working on music after these parties. Like a special treat for special moments. So I ended up calling one of the tracks Fingerfood. The short percussive breakdown part in the track is actually me knocking on a kitchen table.
Find Phace on the Web:
http://phace.space/
https://www.facebook.com/phaceneosignal/
http://soundcloud.com/phace
https://twitter.com/phace_
https://www.instagram.com/phace_/
https://www.youtube.com/c/PHACE