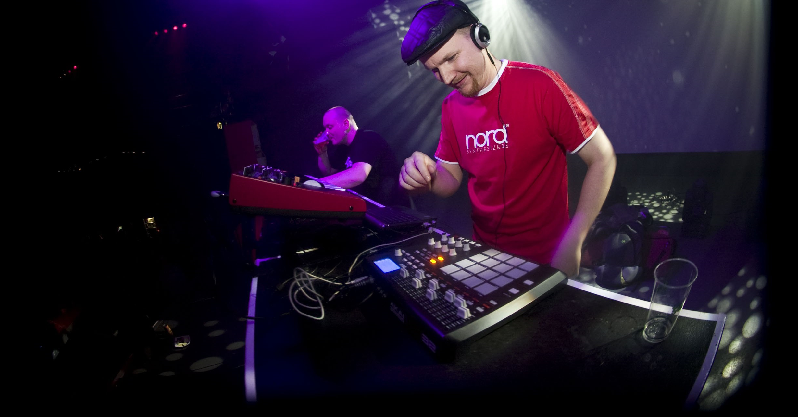 We've been following MachineCode for a really long while, and their Mechtropolis album turned out to be one more discovery for us. From the beginning to the end, this LP is an exciting journey to the sci-fi world, displayed from many different angles. MethLab Agency gave us an opportunity to ask questions to both members of the duo. As a result, we managed to discuss not only their current output, but also Tim and Dean's previous releases and perspectives, and a lot more!
First of all, thank you for taking your time to have a conversation with us. And massive respect for making such amazing music!
Let's talk the concept of Mechtropolis… It states that once in the future, a mechanical creature will start ruling the world, where humanity is being controlled by it and commanded to create more mechanical organisms. Why are you convinced that, eventually, humans will start to obey the machines? What is the crucial point?
We aren't convinced of anything. It is just one possible future vision out of many that represents our musical style. Like in movies it can be seen as a fictional story that allows to play with fantastical or irrational themes that take you on a journey into the unknown.
Our favourite tune off the album is definitely Manouver, so much tension in this one! What inspired you to make it?
Tim: We wanted a tune that was carried by some kind of scattered bass modulation. That's how it started. I'm not sure exactly what inspired it.
Dean: It's hard to say what inspires one track to another sometimes some new hardware or software, a movie or something that has caught your eye somewhere. Any one of the above could have brought Manouver to fruition 😉
Another standout track for us is Skaro. What is Skaro anyway?
Skaro is a homage to a Uk sci fi badboy the Daleks (not being massive Dr Who Fan to be honest). But the Daleks are pretty cool… Who couldn't love a terrifying Pepper pot with a toilet plunger as a weapon. Skaro more specifically is a planet where the Daleks were created after a thousand year war by Davros.
Can you imagine yourselves citizens of Mechtropolis, as human beings or… as robots? What your life would be like?
Tim: I'd rather not picture a future like this.
This future may be seen as a consequence of life on earth now and the lack of seeking and awakening. A bit like "That happens if" in a complete fictional way.
Dean: The future that Mechtropolis is set in is definitely not one that humans will be enjoying, slaves to the creations of the elite. Maybe a chosen few will still have privileges to an existence but the majority will serve or face extinction… So nothing new then I suppose! Just a titanium skin calling the shots 😉
Your previous album, Samurai, also has a great artwork depicting a giant mecha. The LP itself was definitely a memorable experience. Was it a conceptual album, too? And what was the reason of placing the theme of Japan?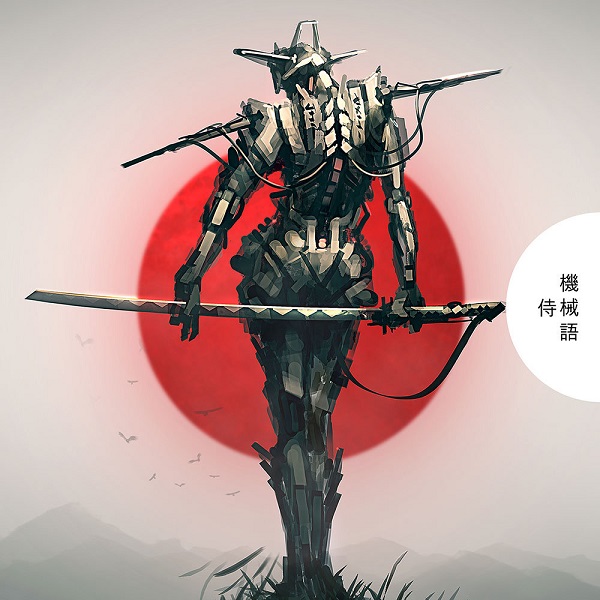 Dean: I think albums that we have done become conceptual in their own right just through the process of doing an album. As you start collecting tracks that you think fit or represent where you are at a time, a stronger feeling and identity emerges bringing a concept forward. We definitely don't over state a concept when we start. I believe if we did this we would run into all sorts of trouble creatively. Maybe dismissing good ideas just because in that minute we don't believe they are fitting a theme that we have created. Better to let one create itself we think.
How did you get introduced to the dnb music? What attracts you in the first place?
Tim: That was way back in 1996 maybe earlier, when I heard the first Junglebits on a weekly radio show called Rave Satellite with Marusha. I started with Techno back in the days but when I first heard these fast-paced rhythms I was literally blown away. That how it started for me.
Dean: Defining the moment that I can recall my introduction to dnb or jungle is a hard one, the 90s is a bit of a blur and too many genres at the start of the 90s had already began hinting to what was to come. Living in Essex around the mid 90s I expect the 1st time I was introduced to jungle would have been on a pirate radio station probably Unity or Shakedown when jungle was emerging out of the rave scene there…
Do you have a different approach to making techno stuff? Last year you released the Process EP via Unknown Forces.
Tim: At least our vision of techno is influenced by loopbased, slowly unfolding musical stories with very few but weighty elements. A very natural music writing I think.
Dean: Yeah there is definitely a different discipline to techno and skill to evolving a track without it feeling like it's changing to obviously. Making the approach to writing techno a bit of a different process to dnb. The art of holding someone's interest without them knowing that it's being held is a special thing to techno. Unlike dnb where it has to change a lot in a short period of time.
Dean, you have a rather prolific background as a techno producer… What does techno music represent for you personally?
Techno to me was always about the journey and the tribal state that you could reach, from either playing it or absorbing it in the right environment. MachineCode and my own productions do often reflect the influence techno here and there. As you can hear on tracks like Mirror and past tracks I've done, a new EP on BNKR will be bringing more of that techno concept back to my production.
Tim, you've been incredibly productive this year, just as ever. Where do you see your sound heading to? How do you think you evolved as a producer?
The idea is that music can always be most representative of the "now". That's what keeps it constantly changing, new, interesting and truth telling. Music can also be prophetical and thus be even more than just a reflection of now. My task here is to dig as deep as possible into it. Techniques and skills go hand in hand with the increasingly demanding tech development.
It's a story without ending. Wonderful!
Tim, your back catalogue is just astonishing. Are there any highlight releases for you, the ones where you expressed yourself at the highest level… or you really don't care about the past years?
As I see everything as a journey I certainly leave the past behind so to say relating to the above said…
But sure, there are things that stand out for me too such as Dark Rain, The Good to name very few of the more distant past releases. But also things like Lipophil or the very recent releases on Critical or Blackout I'm quite happy with. I think of Contact, especially the intro…
Tim, you've visited Russia a plenty of times, including your last year's appearance at the Mekhanika festival. What's your impression about the country in general?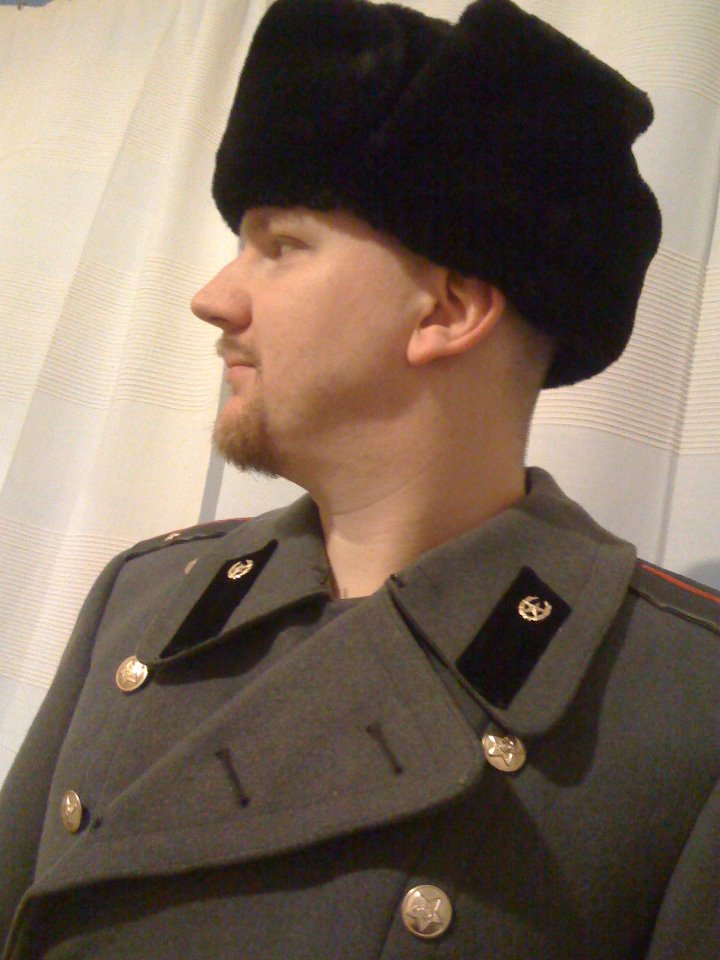 As restricted as its past may have been I can feel a certain freedom there I miss in the mosaiclike West. I feel the vastness of this country – very inspiring. It's young ppl at festivals and shows are probably the most enthusiastic you can find to date. It feels they go there with a "mission".
Dean, what is it like to operate the Subsistenz imprint? Are there any releases in the pipeline?
Subsistenz does have a few things up its sleeves for later this year but as yet we can not say who and when, as we are in the final stages of putting it together. It will be a compilation of sorts though… 🙂
Dean, you had another collab project – with Raiden, it was called The Dying Punks. What was the production process like? And why such a pseudonym?..
Dean: Yeah the process was cool at the time, I used to visit Chris in Estonia and when I moved to Berlin Raiden would pass by my place here and there. Chris was always big on techno and you could hear that with his label Offkey, even more so now with his Kamikaze Space Programme project. So when we did work on things we had a good feeling of what the project was to bring to the table: Techno Dnb or as it became known Technoid. The Dying Punks name if truth be known come from [British TV show] The Mighty Boosh review three words unconnected to each other sprung out from a long text – The Dying Punks.
Who, in your opinion, are the most important dnb artists ever?
There's too many to name and it would do some injustice to leave somebody out because there are many ppl and each of them bring something unique to the table that should be appreciated regardless of their difference in skill and success.
Every artist is important however big or small they are with in a scene the fact they exist means the scene has a history and a future!
What do you think of Germany's contribution to the dnb culture? We are aware that Tim highly appreciates the work of Phace and Misanthrop, and has a range of releases on Position Chrome. But, besides that, in Germany in the 90s there was drum & bass and jungle stuff from the likes of Christoph De Babalon and Riot Beats label.
Tim: Don-Q, Basswerk, Santorin
Dean: I'm not German and struggle enough to remember the 90s as it is 😉
Which artists are you currently following outside of drum & bass?
Those Poor Bastards, Rory Porter, Felix K
Last but not the least… Have you already thought of making a continuation of Mechtropolis, or making up a completely new sci-fi environment?
We're definitely working on new material. But we want to keep that secret for now. Maybe is time to come back to earth who knows!
Mechtropolis album is out now on Eatbrain. Grab your digital copy here.
Find MachineCode on the Web:
facebook.com/machinecodednb
soundcloud.com/machine_code